Italian by Night
Italian Soul, New Brunswick Ingredients
Some days, the tomatoes Chef Michelle Hooton harvests on her farm are still warm when she arrives at Italian By Night, the beloved fine-dining restaurant she co-owns in the heart of uptown Saint John, New Brunswick. In the kitchen, she and her team deploy well-honed restraint in turning these and other impossibly fresh ingredients into plates of extreme deliciousness.
"Everything that we use in the restaurant from May until October comes from my farm," she says. Along with bushels of tomatoes and other produce, she grows a bumper crop of herbs, including borage, lemon thyme, variegated sage, fresh bay, and, of course, rows of basil, as well as edible flowers such as rose, lily, violet, pansy, and nasturtium.
"I'm able to pick things at their peak, so they look beautiful on the plate," Michelle says. "It really lets us have fun in the kitchen and takes us to another level in terms of art on the plate."
Love at First Bite
Her culinary awakening came around age 10, when her uncle made a homemade pizza from scratch.
"It was love at first bite," she says.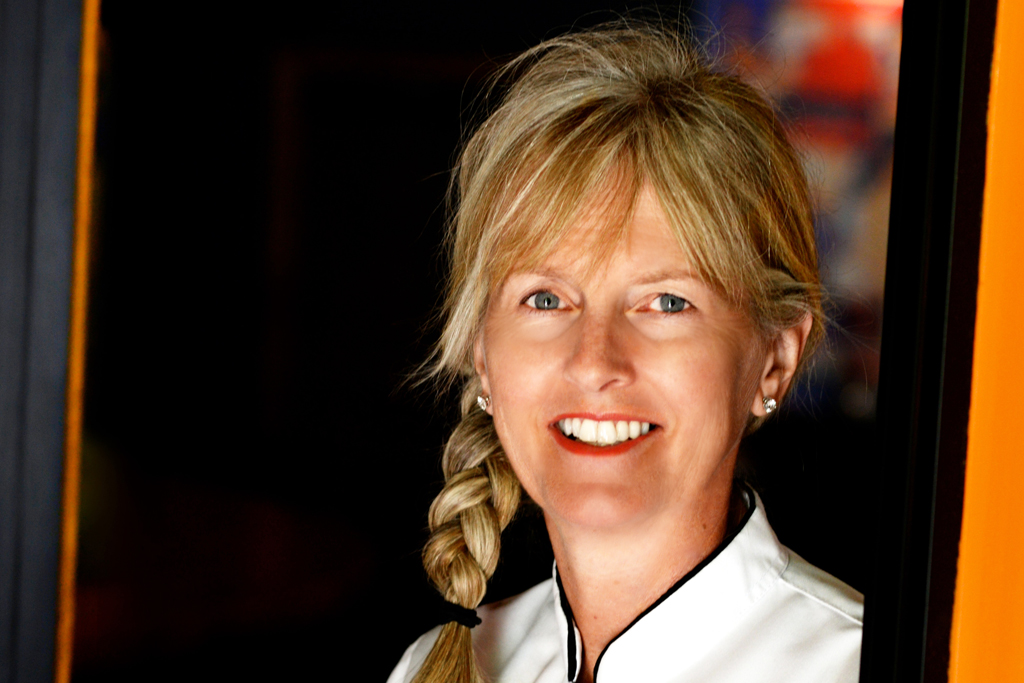 She's been chasing those flavours ever since.
In the 1980s, living in an Italian neighbourhood in New York City, she dined at red sauce joints, high-end Italian trattoria, and NYC's legendary pizzerias. She'd sit on her stoop and talk about food with her landlord, a retired Sicilian man. One night, he taught her to make pesto.
"You have the soul of an Italian," he told her.
It rang true. She loved not just that country's food but its culture and values, including its focus on family.
"Around the table is where my family shares our lives," she says.
That convivial atmosphere imbues IBN, which offers a more elevated version than most of us associate with family meals. It's high-end comfort food, if your idea of comfort is scratch cooking with the freshest ingredients, backed by impeccable culinary chops.
Growing and Preserving
Michelle puts her own spin on Italian classics, blending imported ingredients like olive oil with New Brunswick products and locally grown Italian varieties, such as the famous San Marzano tomato, which takes on a slightly different flavour in our soil and climate.
If she has the soul of an Italian, she's got the heart of a Maritimer, deploying traditional techniques to capture the bounty of our short growing season.
"If I grow it, I can preserve it."
Sometimes there are happy experiments, like the bushels of unripe cherry tomatoes she pickled last fall that became a big hit on IBN's carne e formaggio board.
Sourcing Local Ingredients
Along with her own garden crops, she sources additional vegetables and fruit from New Brunswick farms through Mirage Foods, a local fine produce distributor; gets fresh Atlantic seafood from local suppliers; and buys from foragers when ramps or other wild goodies are in season.
"Any chef worth their weight in salt wants to use local ingredients because they're the freshest," she says. "We're getting it right out of the water, or the soil, and it's on the table. That's pretty exciting."
While the kitchen hums, practically silently, in preparation for that evening's service, she explains her approach to building the team of cooks and bakers who work alongside her to craft IBN's signature dishes. In teaching them to maximize fresh, local ingredients, she preaches minimal intervention.
"When you have a product that perfect, the best thing that you can do as a chef is get out of its way," Michelle says. "It takes more skill to do less and be confident that what you're sending to the table is the best we can offer."
When you're in Saint John, New Brunswick, visit Italian by Night at 97 Germain Street. To make reservations, click here. For more articles like this one, click here.