New Brunswick Breweries Win Big
New Brunswick breweries win big on the national stage, taking home top honours at the Canadian Brewers Choice Awards.
The Annual Canadian Brewers Choice Awards (CBCA) is a chance for the brewing industry to come together and celebrate the years' achievements with friends and colleagues. It is a time to highlight the grand accomplishments from across the country and a night to have a pint (or two) and recognize all the hard work and dedication the industry pours into its passion. This year was no exception as the CBCA's blended together a presentation awards dinner and an industry holiday event on Thursday, December 8 at Old Flame Brewery's newest location within Toronto's historic Distillery District.
There were more than 100 brewing professionals from across Canada in attendance as well as from the United States. This year's panel of judges included, among others, the Brewers Journal Canada Team, Tim Sheahan – Editor of Brewers Journal Canada, Ren Navarro – Founder of Beer Diversity, John Keeling – former brewing director of London UK-based Fuller's, Natasha Peiskar – President of Pink Boots Society Canada, and Stephen Tyson – Founder of Karbon Brewing.
Designed to recognize the absolute best in Canadian brewing, where the Best of the Best are highlighted and their achievements celebrated, the CBCA's showcased Canadian talent at its finest, and this was especially true for the province of New Brunswick. Cheers and applause were heard across the brewery as the Maritime province was shortlisted in their respective categories, and then took home the gold for each:
2022 CBCA NEW BRUNSWICK WINNERS:
• Brewer of the Year: Andrew "Esty" Estabrooks from Foghorn Brewing in Rothesay, New Brunswick
• Brewery of the Year: Tire Shack Brewing from Moncton, New Brunswick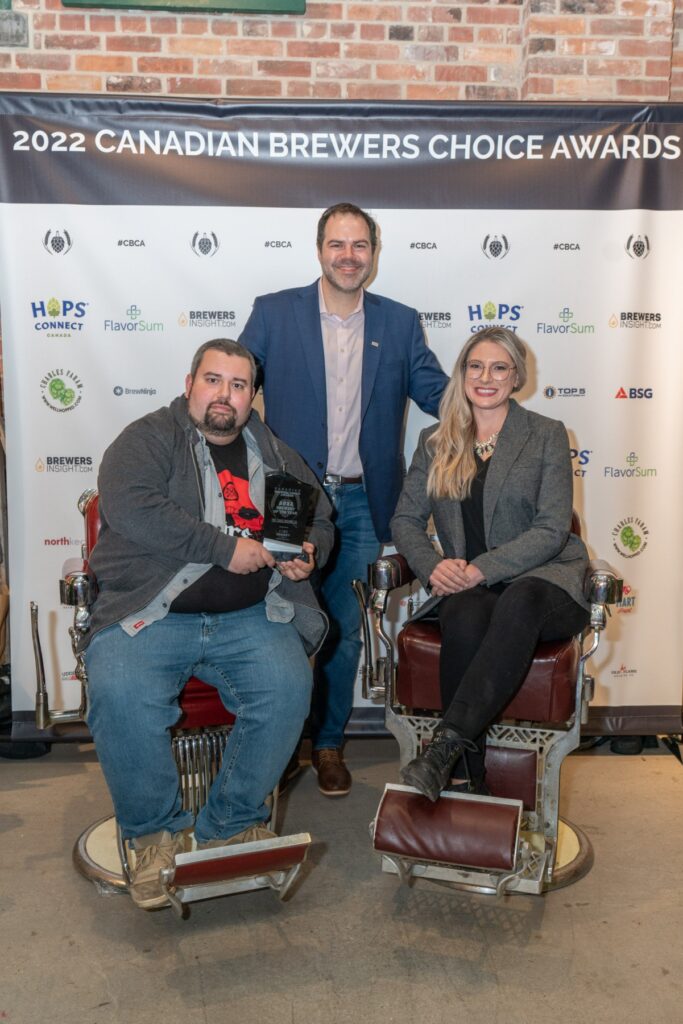 Tire Shack Brewing
Tire Shack Brewing in Moncton, New Brunswick, is run by the husband-and-wife duo of Alan Norman and Jerrica Kennedy, who were in attendance at the CBCA to receive their Brewery of the Year award.
"Winning Brewery of the Year has given our entire team a great sense of pride and accomplishment," says Norman. "We love what we do, and this award inspires us to keep pushing boundaries and experimenting with what beer can be.
"We opened our brewery because we love the sense of community and inclusiveness that craft breweries can inspire. To be considered a leader in this industry brings an incredible sense of honour to us and our community. There are so many incredible breweries across the country that we look up to and who inspire us that it almost seems surreal to have won."
"We moved back to New Brunswick (after living in Toronto for 15 years) because we love this province and saw the amazing potential to be a real change maker. New Brunswick is undergoing a period of rapid growth and change and is an incredible place to live. We are so excited to be a part of that growth and believe that this award will help inspire tourism and interest in the amazing breweries this province has to offer," explains Norman as to what this win means to the Province of New Brunswick.
"The craft beer scene in New Brunswick is really thriving and incredibly supportive—it's great to finally get the word out on a national level. New Brunswick is making some of the best beer you are likely to drink in all of Canada."
Looking Back, Looking Ahead
"What an incredible journey this has been. When we started, the Tire Shack was an old auto garage that had been abandoned for over three and a half years (yes, it was called The Tire Shack when it was an auto garage…. everyone knew where it was and what it was called so we decided to keep the name).
The space and the neighbourhood were up against hard times. However, we saw a real opportunity to bring back a sense of pride to what is a very old and historically significant part of the city. We extensively renovated the building with most of the work being done by us and family over 11 months," says Norman. "We opened our doors in November 2019 only to have Covid shut us down four months later. A global pandemic was not in our business plan but with the incredible support of the community, we made it work. It's been a wild ride and all we have known is controlled chaos, but we wouldn't have it any other way."
"We have been fortunate enough to begin an expansion and we are currently building a 5600 square foot addition onto our current space. The expansion will be used for increased production as well as an event space that will host weddings, corporate functions and community events. We are also building a four-season glass-enclosed roof-top patio that we are super excited about. The process has been incredibly amazing and fulfilling to picture how we started to where we have come."
Winning Brewery of the Year "We never ever would have thought we would win Canadian Brewery of the Year and we are still a little in shock. We are so grateful for all the incredible support we have received from the community, and we are so fortunate to have such a fantastic team that truly makes every day better than the last. We are having an amazing time and are very much looking forward to the future!"
Foghorn Brewing Co
Foghorn Brewing Co.'s co-owner/brewer, Andrew "Esty" Estabrooks, took home the Brewer of the Year award. Known as Rothesay's original craft brewery and taproom, Foghorn—and Esty—are all about creating a community space, one pint at a time.
"To myself, winning this award is an honour. It's a peer-voted award, so I appreciate being recognized by other people around me. I've never been a part of anything like this before, so this award was new to me," says Esty. "Everyone is in the same game so when you have your head in the trenches and then you bring your head up and look around, it is an honour to have someone give you an award like this to recognize your hard work—it really means a lot."
"For Foghorn to be recognized, it puts you on people's radar and part of what it does for the Province of New Brunswick is it means that New Brunswick is getting noticed and to be noticed with craft breweries across Canada is amazing—it shows everyone what New Brunswick has to offer. It is nice to be recognized as a player and to be in the same sphere as everyone else," explains Esty.
Brewing for the Community
"The Brewery launched in 2016 and I was approached by Steve about this project in 2015; there was nothing like Foghorn in the area. Before this, I spent 10 years as the head brewer at Picaroons and I also spent some time a Les Brasseurs du Petit-Sault in Edmundston. There was also a huge boom in Fredericton between 2014 and 2016."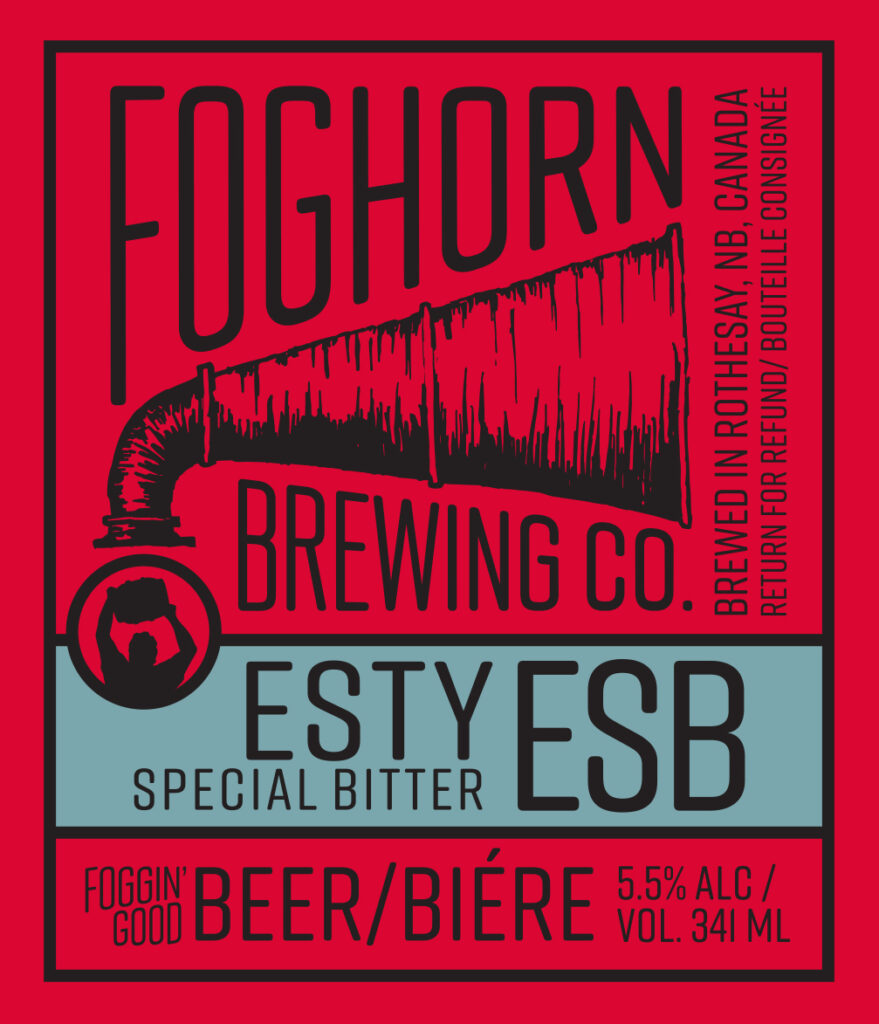 "Craft beer is so immersive, that's what I love about the industry," says Esty. "This industry is hard work, but eventually you figure out how to make money from your passion. You have people who follow you and come in to try the new beer that you come up with and to be a part of that is so satisfying."
"We're going to continue to grow, and we'll try our best to keep up with the demand. We'll continue to find good people to work with, who have the same passion as we do and to collaborate with everyone in the province. One of my favourite parts about the craft beer industry that you sometimes take for granted is getting to share ideas on any given day. If you have grains and yeast leftover, everyone helps each other out—it lifts the industry up and it's a great industry to be a part of," says Esty.
Written by Sabrina Pirillo and originally published in Brewers Journal.
For more articles like this one, click here.